United States
College of Veterinary Medicine & Biological Sciences
1619 Campus Delivery
Colorado State University
Fort Collins, CO 80523-1619
USA
The Microbiology, Immunology and Pathology (MIP) Department is comprised of over 400 individuals who share a common passion for solving some of the most important human and animal health problems today. Research programs include those related to mycobacteria, retroviruses, prions, and arthropod-borne infectious diseases, as well as the diagnostic investigation of naturally-occurring animal diseases. A leader in education, MIP provides the only microbiology undergraduate degree program in Colorado, a graduate program that provides training in a number of cutting-edge disciplines, and several specialized veterinary residency training programs.
Center Director: Dr. Ramesh Akkina
Affiliated Researchers: Barry Beaty, C. Calisher, E. Hoover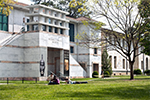 Emory University
Laboratory of Biochemical Pharmacology
1760 Haygood Drive, Room E420
Atlanta, GA 30322, USA
Emory University is at the epicenter of the AIDS epidemic in the Southeastern US located in Atlanta, GA. The University sits in a geographic area that is disproportionately affected by HIV/AIDS.   Emory University has an established NIH funded HIV Program and Center for AIDS Research (CFAR). Emory has established itself as a center for emerging infectious disease research (e.g., Hepatitis B and C, Dengue, Chikungunya, Ebola and most recently Zika viruses). In addition, Emory University Hospital is an established leader as a regional/global health care center including among the first center equipped to treat individuals infected with Ebola virus in 2015. In addition, Emory University Hospital has affiliation with Grady Hospital (urban Community Hospital) and close proximity and collaborations with adjacent Atlanta Centers for Disease Control and the Atlanta Veterans Administration Medical Center. In addition, Emory University has established collaborations with other Atlanta-based universities including Georgia Institute of Technology (Georgia Tech Partnership) and Morehouse School of Medicine (Prevention Research Center, PRC). These initiatives underscore a vigorous infectious diseases research program as well as strong programs in outreach, clinical service and education.
Center Director: Dr. Raymond Schinazi
Affiliated Researchers: Dr.'s Silvestri, Del-Rio, and Hunter
FDA/OVRR
10903 New Hampshire Avenue, Building 52 Room 1128, Silver Spring, MD 20993
Who are we?
FDA Center for Biologics Evaluation and Research (CBER) is the world's oldest institution responsible for regulation of biologically-derived medical products. As its name suggests, another mission of CBER is to conduct regulatory research to better understand basic and translational aspects of regulated products, and to inform development, evaluation, and manufacture of various biologicals. Office of Vaccines Research and Review (OVRR) is one of the three product offices, along with the Office of Blood Research and Review, and the Office of Tissue and Advanced Therapies that also regulates gene and cellular therapies. The area of regulatory and research purview of OVRR includes vaccines against viral, bacterial, and parasitic diseases, allergenic products for both diagnostic and therapeutic use, as well as live bio-therapeutic products, such as probiotics, fecal microbiota transplantation, and phage therapy. The Office research portfolio includes 35 independent research programs covering a wide range of viral and bacterial pathogens.
Center Director: Dr. Konstantin Chumakov
Affiliated Researchers: Vadim Agol (Moscow University), Antonio Toniolo (University of Insubria), Scott Dessain and Ramdev Puligedda (Lankenau Institute of Medical Research), George Belov (UMD), John Clements and Elizabeth Norton (Tulane U), Cara Burns and Jennifer Anstadt (CDC), Andrew Macadam and Javier Martin (NIBSC), Raul Andino (UCSF)
Gladstone Institute of Virology & Immunology
1650 Owens Street
San Francisco, CA 94158
USA
Virology and immunology research at Gladstone is focused primarily on three primary and urgent challenges in HIV/AIDS. We desperately need a vaccine for those at risk of coming in contact with the virus, as well as a cure for the millions of people who are already infected. And finally, we need new approaches for restoring a normal lifespan to those who are HIV-positive—but dying much too early from diseases of aging. In addition to HIV, we're working on a variety of other areas of investigation: Gladstone scientists are looking for new biological targets for drugs that will attack the hepatitis C virus—which has infected 170 million people worldwide. Hepatitis C is a common co-infection with HIV/AIDS. We are also investigating the molecular structure of viruses associated with cancer—and how to remove them from the body as a way to reduce the risk of cancer. And we are investigating why newborns and infants mount less effective immune responses to viruses than adults do.
Center Director: Dr. Warner Greene
Affiliated Researchers: Melanie Ott, Dr. Nadia Roan and Dr. Leor Weinberger
Institute of Human Virology, University of Maryland 
725 W. Lombard Street
Baltimore, MD 21201
The Institute of Human Virology (IHV) is the first center in the United States – perhaps the world – to combine the disciplines of basic science, epidemiology and clinical research in a concerted effort to speed the discovery of diagnostics and therapeutics for a wide variety of chronic and deadly viral and immune disorders – most notably HIV, the cause of AIDS. Formed in 1996 as a partnership between the State of Maryland, the City of Baltimore, the University System of Maryland and the University of Maryland Medical System, IHV is an institute of the University of Maryland School of Medicine and is home to some of the most globally-recognized and world-renowned experts in the field of human virology.
Center Director: Dr. Robert C. Gallo
Affiliated Researchers: Alash'le Abimiku, Clement Adebamowo, Manhattan Charurat, Neil T. Constantine, Tony DeVico, Matthew Frieman, Shyamasundaran Kottilil, George Lewis, Wuyuan Lu, Mikulas Popovic, Marvin S. Reitz, Mangalasseril Sarngadharan, Alan L. Schmaljohn, Yutaka Tagaya
Administration: Nora Samaranayake
J. Craig Venter Institute
9704 Medical Center Drive
Rockville, MD 20850
and
4120 Capricorn Lane
La Jolla, CA 92037
The J. Craig Venter Institute (JCVI), which has campuses in both Rockville, MD and La Jolla, CA, has become a major center in virology research. The thread that runs through all JCVI research is genomics, i.e. analysis of the genetic material of populations of organisms, organisms, cells, and viruses. The virology program at JCVI conducts research focused primarily on genomics, evolution, pathogenesis, and vaccine development. The JCVI virology community is composed of representatives from every group in the institute: infectious diseases, human genomics, bioinformatics, synthetic biology, and environmental genomics. JCVI virology may be best known for sequencing thousands of complete influenza virus genomes, and the viral genomics program also has expertise in sequencing, assembly, and annotation of many other virus families. Thus, the ability of JCVI to rapidly isolate, sequence, analyze and synthesize virus genomes through a fully integrated workflow infrastructure makes JCVI unique as a possible rapid response center and therefore a valuable partner in the GVN.
Center Director: Dr. John I. Glass and Dr. Richard H. Scheuernmann
Affiliated Researchers: Suman Das, Dan Gibson, Richard H. Scheuernmann, Reed S. Shabman,  Sanjay Vashee
Johns Hopkins Bloomberg School of Public Health
615 N. Wolfe Street
Baltimore, MD 21205
The Johns Hopkins Bloomberg School of Public Health is part of Johns Hopkins University in Baltimore, Maryland and is composed of ten academic departments. As the first independent, degree-granting institution for research and training in public health, and the largest public health training facility in the United States, the Bloomberg School is a leading international authority on the improvement of health and prevention of disease and disability. The school's mission is to protect populations from illness and injury by pioneering new research, deploying its knowledge and expertise in the field, and educating scientists and practitioners in the global defense of human life. The school is ranked first in public health in the U.S. News and World Report rankings and has held that ranking since 1994.
Center Director: Dr. Diane Griffin
Affiliated Researchers: Janice E Clements, Andrea  Cox, George  Dimopoulos, Anna  Durbin, J. Marie Harwick, S. Diane Hayward, Gary  Ketner, Sabra  Klein, John  Nicholas, Douglas  Noris, Andrew  Pekosz, Deborah  Persaud, Stuart C. Ray, Robert  Siliciano
Center for Virology at Icahn School of Medicine at Mount Sinai
One Gustave L. Levy Place
Box 1124
New York, NY 10029
The Department of Microbiology is focused on studying such viruses as influenza, dengue, Ebola, Marburg, Crimean-Congo hemorrhagic fever, Chikungunya, West Nile fever, hepatitis C, and emerging paramyxoviruses such as Nipah and Hendra viruses. Studies are directed at understanding how the innate immune system of the infected host is counteracted by components of these viruses and how the interferon signaling system works on a molecular level. Department researchers are involved in developing new vaccines against these viruses, identifying small molecular weight compounds for use as antivirals, and generating broadly neutralizing antibodies against pathogens in the WHO Blueprint list of priority diseases such as Nipah and henipaviral disease.  Unique resources that facilitate development of such countermeasures include CTAD (Center for Therapeutic Antibody Development) and VECToR (Virus Engineering Center for Therapeutics and Research), both led by departmental faculty.  Additionally, some faculty members have BSL4-trained postdocs and long-standing funded collaborations with national BSL-4 facilities (UTMB-Galveston) where, for example, vaccines and therapeutics against henipaviruses can be tested.  Established in 1968, the Icahn School of Medicine at Mount Sinai (formerly, Mount Sinai School of Medicine) is one of the few medical schools embedded in a hospital in the United States. It has more than 3,400 faculty in 32 departments and 15 institutes, and ranks among the top 20 medical schools both in National Institute of Health funding and by U.S. News & World Report.​
Center Director: Dr. Peter Palese
Affiliated Researchers: Adolfo Garcia-Sastre, Florian Krammer, Ana Fernandez-Sesma, Benhur Lee, Thomas Moran, Benjamin tenOever
The Scripps Research Institute, La Jolla, CA
10550 N. Torrey Pines Road
La Jolla, CA 92037
The Scripps Research Institute (TSRI), one of the world's largest, private, non-profit research organizations, stands at the forefront of basic biomedical science, a vital segment of medical research that seeks to comprehend the most fundamental processes of life. Over the last decades, the institute has established a lengthy track record of major contributions to the betterment of health and the human condition. The institute — which is located on campuses in La Jolla, California, and Jupiter, Florida — has become internationally recognized for its research into immunology, molecular and cellular biology, chemistry, neurosciences, autoimmune diseases, cardiovascular diseases, virology, and synthetic vaccine development. Particularly significant is the institute's study of the basic structure and design of biological molecules; in this arena TSRI is among a handful of the world's leading centers. The institute's educational programs are also first rate. TSRI's Graduate Program is consistently ranked among the best in the nation in its fields of biology and chemistry.
Center Co-Director: Dr. Michael B. A. Oldstone and Dr. Erica Ollmann Saphire
Affiliated Researchers: Kristian G Anderson, Dennis Burton, Frank Chisari, Hyeryun Choe, Juan Carlos de la Torre, John Elder, Michael Farzan, Philippe Gallay, Lars Hangartner, Jack Johnson, Mansun Law, Don Mosier, David Nemazee, Glenn Nemerow, James Paulson, Vijay Reddy, Hugh Rosen, Andrew Saphire, William Schief, Brian M Sullivan, Brian Sullivan, John R Teijaro, Timothy Tellinghuisen, Bruce Torbett, Susana Valente, Andrew Ward, J. Lindsay Whitton, Ian Wilson, Richard Wyatt, Michael Zwick
Tulane University School of Medicine
New Orleans, LA 70118 USA
The Eastern Province of Sierra Leone has the world's highest incidence of Lassa fever, a viral hemorrhagic fever [VHF] that disproportionately affects pregnant women and children. Kenema Government Hospital [KGH] was an important site for Lassa fever clinical and laboratory research throughout the 1970s and 1980s. The violent civil conflict sometimes referred to as the Blood Diamonds War forced suspension of Lassa fever research at KGH in 1993. Following the cessation of hostilities, a consortium of Lassa fever researchers began rebuilding the scientific infrastructure at KGH. A major step was renovation of a preexisting building, and installation of laboratory infrastructure. Lassa fever causes initial symptoms such as fever or headache that are common in other diseases such as malaria. Therefore, the focus of Lassa fever research in post-conflict Sierra Leone was development of improved laboratory diagnostics. The Lassa fever program also supports the activities of a clinical staff experienced in the care of Lassa fever patients, and an ecology team, who provides rodent control measures to villages with Lassa fever cases. The Outreach/Surveillance team performs case investigations, follow-up and community sensitization. Work is being completed on a new VHF ward that will anchor the Khan Center named after the late Dr. S. Humarr Khan who was the director of the KGH Lassa Ward and contracted Ebola treating patients during the 2013-16 outbreak.
Center Director: Robert F Garry
Affiliated Researchers: Donald  Grant, Pardis C. Sabeti

University at Buffalo HIV and HCV Clinical Pharmacology Laboratory 
Translational Pharmacology Research Core
701 Ellicott Street
Buffalo, NY 14203
The University at Buffalo HIV and HCV Clinical Pharmacology Laboratory at the Center of Excellence in Bioinformatics and Life Sciences, is an internationally recognized leader in antiviral pharmacology and therapeutics and has been conducting antiviral research since the beginning of the HIV epidemic. In addition, the laboratory is a training site for numerous national and international faculty, pre-doctoral students, post-doctoral fellows and residents, provides a global antiviral proficiency testing program through an NIH contract and conducts laboratory site assessments as a component of research quality assurance and capacity building.
Our investigators are focused in the following areas:
Conducting innovative HIV and HCV clinical and translational research;
Investigating novel biomatrices and compartments for the measurement of antiviral activity;
Integrating pharmacokinetics and pharmacodynamics with human and viral genomics and proteomics to facilitate and accelerate drug development research;
Promoting capacity building to train translational scientists and build global research infrastructure for antivirals and associated co-infections.
Center Director: Dr. Gene D. Morse
Affiliated Researchers: Irwin Gelman, Qing Ma, Charles Venuto,Amy Jacobs,Andrew Talal,Charles Maponga
University of Wisconsin-Madison (UW-Madison) Global Health Institute
1656 Linden Drive
Madison, WI  53706
The University of Wisconsin-Madison (UW-Madison) is world renowned for its research and translational programs in virology and the global reach of these programs.  The UW-Madison Global Health Institute lies at the crossroads of these endeavors and serves as an umbrella organization for broad-based activities on emerging themes in global health.  Virologists at UW-Madison study agents infecting humans, animals, and plants, including highly pathogenic viruses (e.g. the ebolaviruses) and viruses with pandemic potential (e.g. influenza virus, arboviruses).  Activities range from basic research to the development of vaccines and therapeutics to public health and policy.  UW-Madison has particular strengths in emerging viral pathogens and zoonosis, including rapid detection and characterization of viral agents, the development of animal models (especially primates), and the development of countermeasures such as vaccines and therapeutics.
Center Co-Director: Dr. Tony Goldberg
Center Co-Director: Dr. Yoshihiro Kawoaka
Affiliated Researchers: Drs. Lyric Bartholomay, Kristen Bernard, James Conway, Thomas Freidrich, Paul Friesen, James Gern, Paul Lambert, Andrew Mehle, David O'Conner, Jorge Osorio, Ann Palmenberg
University of Miami, Miller School of Medicine
BCRI Building
1580 N.W. 10th Ave.
Seventh floor
Miami, FL 33136 USA
The University of Miami is in a geographic region that is disproportionately affected by HIV/AIDS and is also at the gateway to South America . As such, our research programs in virology and immunology focus on HIV/AIDS and its co-pathogens as well as emerging tropical infectious pathogens. Research on HIV/AIDS is focused on development of a vaccine against HIV-1. Researchers are developing approaches based on broadly neutralizing antibody approaches as well as CD8 T-cell-based approaches. Although antiretroviral therapy can reduce HIV in the blood to undetectable levels, virus replication resumes when treatment is interrupted for whatever reason. Therefore, several investigators are trying to understand how HIV-1 persists in the face of antiretroviral therapy since this knowledge may inform strategies for curing the infection. In addition to research on HIV/AIDS, investigators at UM are examining the viral etiology of Hepatitis C infection. The HCV field has entered an exciting phase with the development of antivirals that can cure HCV infection in as little as 6 weeks. There are also active research programs on Herpesviruses including Kaposis Sarcoma Herpesvirus and EBV. Finally, there are several investigators developing approaches to vaccinate against emerging tropical diseases including Dengue Virus infection
Center Director: Dr. Mario Stevenson
Affiliated Researchers: Ronald Desrosiers, David Watkins, Glen Barber, Savita Pahwa
University of Michigan – Division of Infectious Diseases
1500 E Medical Center Dr #3 Ann Arbor, MI 48109
The Division of Infectious Diseases at the University of Michigan was founded in 1958. Since then, the division has become recognized nationally for an exemplary record of patient care, research and teaching. In addition to the regular Infectious Diseases Outpatient Service, an Immunization and Overseas Travel Consultation Service is available for consultation, general health advice, and immunizations for both domestic and international travel. The University of Michigan Health System is among the best in the world, ranked in the top 15 health systems in the country in the most recent U.S. News and World Report. The Department of Internal Medicine consists of over 600 full time academic faculty, and is ranked fourth in the country in NIH research dollars.
Center Director: Dr. Mark H. Kaplan
Affiliated Researchers: David Markovitz, David Miller, Cathy Collins, Akira Ono, Mike Imperiale, Cristiane Wobus.
University of Nebraska Medical Center (UNMC)
987878 Nebraska Medical Center, Omaha, NE
UNMC has a long history of significant viral research activities, leading a unique array of initiatives that include innovative basic and translational research, a special pathogens clinical trials network, and multiple global public health initiatives. Leading world class molecular, biochemical, pharmacologic and immunological research is operative and well established. Nano formulation antiviral therapies are developed in our GLP and GMP facilities using medicinal and polymer chemistry approaches for bench to bedside drug development.  In addition to the conduct of such research, we promote capacity building through on-site training at UNMC, external collaborations with major U.S. and global pharmaceutical as well as clinical facilities, the capacity to produce products on site, and efforts in support of institutions located in resource-poor nations.  We are committed to working to support the GVN central operations, particularly through participation in grant applications, product development, and clinical research operations.
Center Co-Directors: Dr. Christopher Kratochvil and Dr. Howard Gendelman
Affiliated Researcher: Dr. Kenneth Wayles, Dr. John Lowe, Dr. James Lawler, Dr. Siddappa Byrarreddy, Dr. Benson Edagwa, Dr. Adam Szlachetka, Dr. Charles Wood
University of Pittsburgh Cancer Institute
5117 Centre Avenue
Pittsburgh, PA 15213 USA
Founded in 1985, the University of Pittsburgh Cancer Institute (UPCI) is the only National Cancer Institute (NCI)-designated Comprehensive Cancer Center in western Pennsylvania. With nearly 400 research and clinical faculty members specializing in disciplines ranging from cancer prevention and early detection to novel therapeutic discovery, survivorship, and end of life care, UPCI maintains a broad strategic vision and comprehensive approach to understanding and defeating cancer. The Cancer Virology Program (CVP) is dedicated to research on the viruses causing human cancer as well as using viruses as tools to fight cancer. The CVP includes over 30 investigators working on four major research themes: (1) Viral Oncology; (2) AIDS-related Malignancies; (3) Viral Vectors for Human Gene Therapy; and (4) New Pathogen Discovery.
Center Director: Dr. Patrick S. Moore
Affiliated Researchers: Yuan Chang, Neal DeLuca, Phalguni Gupta, Shaleem Khan, Ronald Montelaro, Saumendra N Sarkar, Thomas Smithgall
University of Rochester Medical Center
Box 689
601 Elmwood Avenue
Rochester, NY 14642
The University of Rochester (UR) is a unique environment for clinical and translational research in virology, with emphasis on respiratory viral pathogens and HIV. For over 25 years, the University of Rochester has been one of the leading institutions studying human respiratory viral infections and HIV/AIDS. Studies by UR scientists have established RSV infections as a major cause of morbidity and mortality in young infants and elderly patients. Over this same time period, researchers at UR have also uncovered fundamental mechanisms involved in HIV-1 genome replication and the generation of viral genetic diversity. UR is also home to several outstanding or unique resources that support virus research, including resources for clinical virology and clinical viral immunology.
Center Director: Dr. John Treanor
Affiliated Researchers: Steven Dewhurst, David Topham, Baek Kim, Luis Martinez-Sobrido, Josh Munger, Toru Takimoto, Brian Ward.
UTMB – Galveston National Laboratory
301 University Blvd.
Galveston, Texas 77550
The University of Texas Medical Branch (UTMB) is known worldwide for its academic excellence in virology research. The scientists and academic staff at the university include some of the world's foremost infectious disease experts, and research at the university results in groundbreaking biomedical discoveries and the development of vaccines, therapeutics and diagnostic tools. The Galveston National Laboratory (GNL), the flagship high containment facility of the UTMB Institute of Human Infections and Immunity, resides on the UTMB campus and houses research on Ebola, chikungunya, MERS coronavirus, dengue, West Nile, ahttp://gvn.org/wp-admin/post.php?post=454&action=edit&ip-geo-block-auth-nonce=7187c08ddd#savend other emerging viruses. The Institute also includes the Center for Biodefense & Emerging Infectious Diseases, the Sealy Center for Vaccine Development, the Center for Tropical Diseases, and the McLaughlin Endowment for Infection and Immunity.
Center Director: Dr. James LeDuc
Affiliated Researchers: Scott Weaver, Tom Ksiazek, Alexander Bukreyev, Tom Geisbert, D. Beasley,  B. Paessler, J. Nichols, Dennis Bente, Alan Barrett, Tetsuro Ikegami, Chien-Te "Kent" Tseng, Tian Wang, Chad Mire
Contact GVN
725 West Lombard St
Room S413
Baltimore, MD 21201
(410)-706-1966